HubSpot recently wrapped up its Inbound 2022 conference, and there's a lot to unpack! While the goal was keeping a finger on the pulse of what's next in business, and needless to say we came away knowing there are some substantial shifts coming. 
What does all this mean for you? Keep reading for our key takeaways from Inbound 2022.
Alongside speakers from companies like Google and JPMorgan Case, Inbound brought in notable digital marketers like Neil Patel and Sam Parr, and big household names like Barack Obama and Jane Goodall.
But amidst all that, we listened to HubSpot executives and co-founders as they discussed their strategies to handle shifting market trends. As the company that pioneered inbound marketing, when HubSpot says to pay attention to something, it's a good idea to listen.
And HubSpot is making some noteworthy changes, not just to its platform, but to its overall inbound marketing strategy. 
Strategy shift: the rising role of people-led content
A lot of the marketing tactics that worked well a few years ago are starting to lose some of their luster. Digital ads have gotten more expensive (and often less effective), SEO competition is getting fiercer, and every business seems to have discovered the importance of content marketing during the pandemic. In short, the internet is feeling a bit saturated these days.
So how are companies fighting this? With a human-focused solution.
The first part of it, which is central to our approach at Simple Strat, is the greater emphasis on unique, original, and valuable online content. This content is created with the audience in mind (rather than an algorithm), to entertain, teach, and delight them — establishing yourself as a trustworthy expert before the customer is even ready to buy.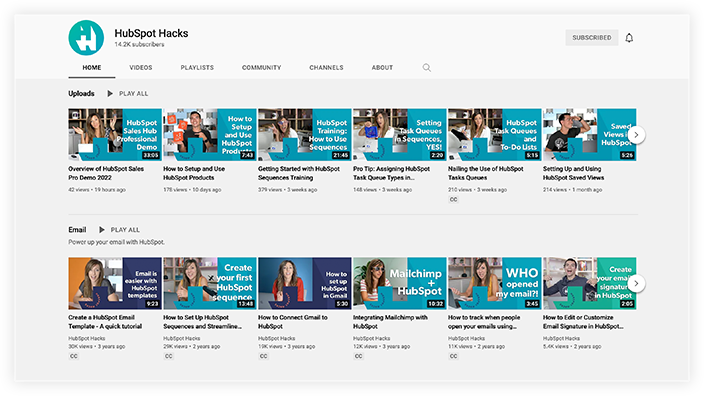 Example: Expert videos on YouTube
The next part of the solution, which HubSpot is emphasizing, comes from a growing craving for greater human connection. Between remote work, an increasingly online population, and skepticism for information sources, there are more feelings of disconnection and digital fatigue. 
Customers want to know the real people behind what they see online. Can I trust them? Do I like them? Do I feel part of their community?
To this end, HubSpot Academy is leaning into a "people-focused" content style, such as hiring more "professors" for HubSpot Academy, and giving them personal brands (like they've done with veteran instructor Kyle Jepson). They're also launching a new and improved HubSpot community called Connect.com.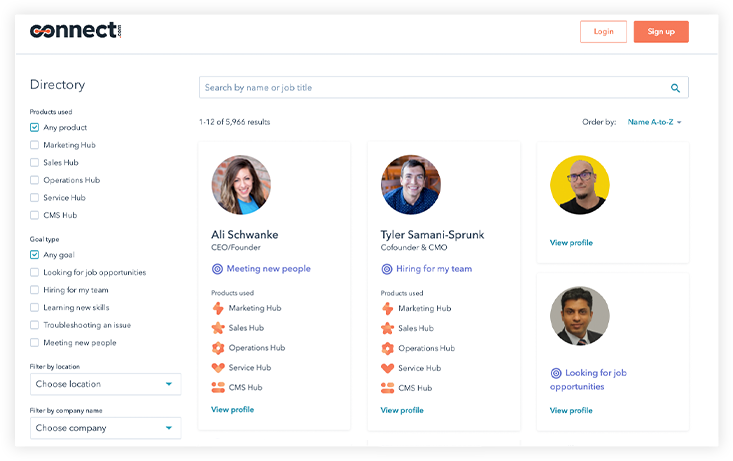 We're also seeing media lead the pack, with an emphasis on HubSpot's "Podcast Stage" at Inbound, which had many speakers highlighting the importance of people-led content again.
This means your customers want to see and connect with you — the people behind the business. 
Examples of people-led content
Kyle Jepson of HubSpot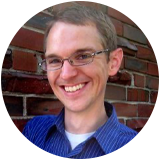 Kyle's mere presence on YouTube as a professor has skyrocketed compared to the HubSpot Academy following itself, and HubSpot has used this to their advantage.
Brett McGrath of The Juice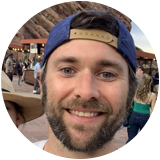 A great example of great person-led content is with The Juice, where VP of Marketing Brett McGrath uses the "Modern Day Marketers" podcast to share valuable insights for marketers. This organic content strategy builds name recognition for Brett, and in turn, for The Juice.
Zed Williamson of TrackableMed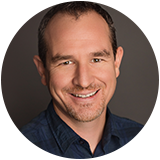 Zed Williamson of TrackableMed helps private practices and medtech companies accelerate patient demand. But Zed further establishes his reputation as an industry expert as the host of the Medical Sales Accelerator podcast, bringing on industry leaders to discuss valuable insights and experiences for listeners.
Mike Rizzo of MarketingOps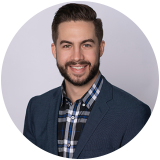 MarketingOps provides an educational community for marketing operations professionals, and within that, Mike Rizzo helps host MOOPS.TV, where guests discuss big mistakes they've made in marketing. This creates a fun community where people can openly discuss the things they've done wrong as marketers. His slack community hosts conversations with more than 3,000 marketing ops pros and this trend is only the beginning.   
We've been implementing this people-focused strategy for many clients for some time now, so we intend to lean into it further as a primary brand awareness method and a lead driver for your business.
HubSpot updates: a more connected platform
Aside from all the strategy talk, HubSpot announced plenty of platform updates at Inbound 2022. Some of these were simply redesigns of existing features, but one central theme was making it easier for users to focus more on connecting with customers, and less on the nitty gritty stuff like managing integrations and data.
HubSpot's Chief Product Officer, Stephanie Cuthbertson, spoke to the areas of disconnection in the market, and how the HubSpot platform is addressing them (watch Cuthbertson's video here). On top of the general cultural disconnect, she emphasized the disconnect between businesses and customers, and the data silos within businesses.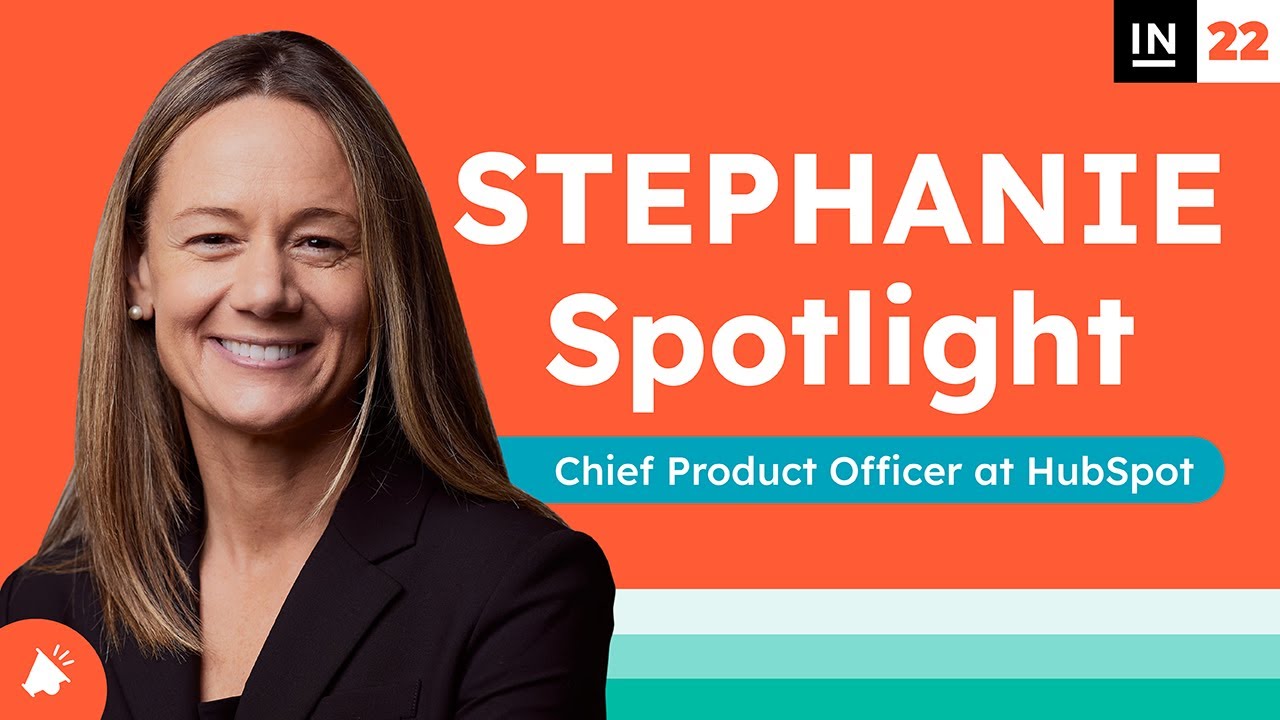 Data is disconnected too, and outdated platforms and solutions are now cobbled together.
With these new updates, HubSpot wants to help you build deeper, more durable connections with customers, to address the rising customer desire for human connection.
"Connect your data, your customers, and your community, all in one place"
Some new features of HubSpot make it easier than ever to streamline your business, connecting everything from suspect to prospect, to sale, to customer, to operations.
This includes a lot more integrations, for everything from invoicing and accounting to ecommerce product libraries. It also offers easier ways to manage your data:
With the custom object builder, you can set up a customized data model with clicks instead of code. With property validations, you can make data entry more consistent, and stop the headaches with messy, incomplete, or flawed data.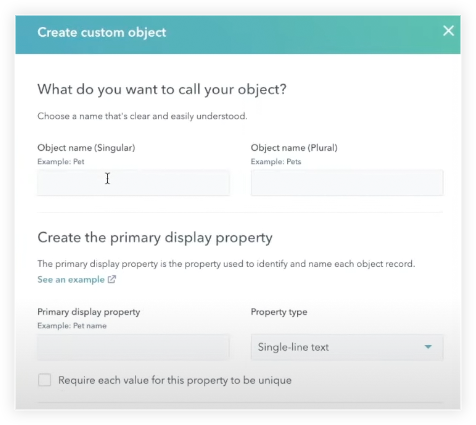 In the "data quality command center," HubSpot now provides insights on the health of all your data, in one central place. This lets you identify stale properties and integration bottlenecks, for instance, showing you when an integration is having issues.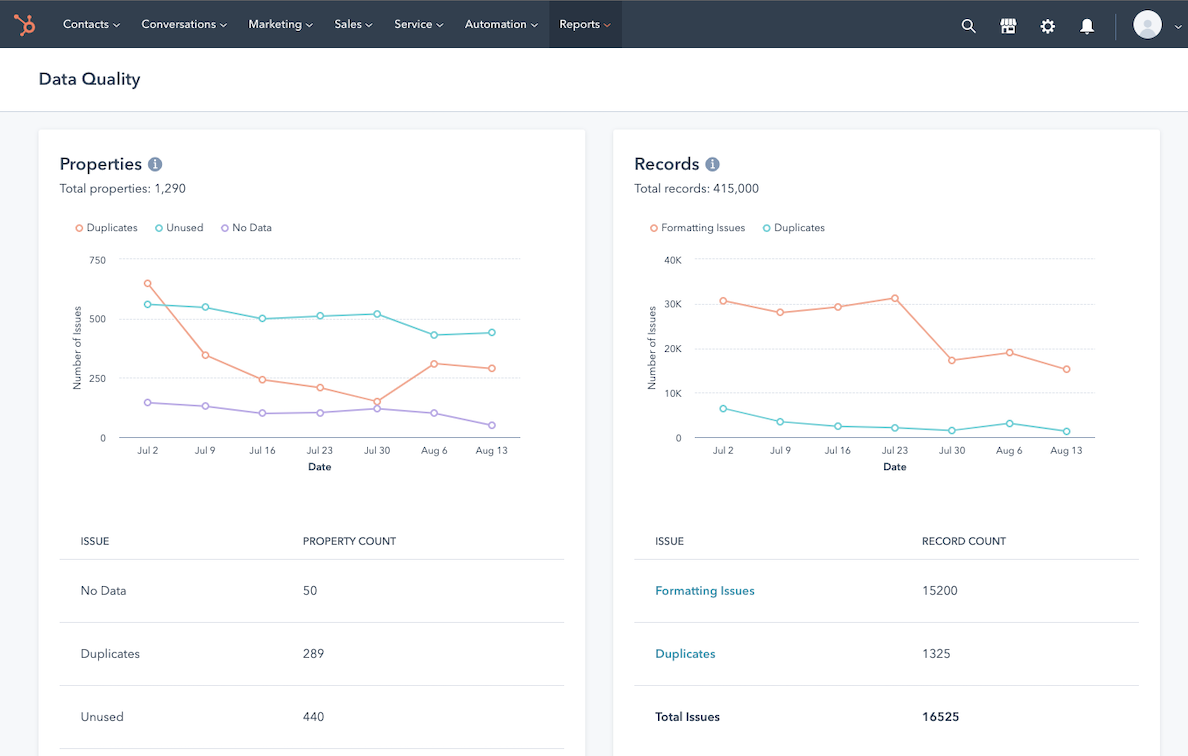 Let's take a look at some other key updates you may want to take advantage of.
A seamless and centralized Marketing Hub 
For the marketing hub, you can connect your customers through one unified platform, so you have fewer tools to sift through, and a simple, centralized spot to analyze insights.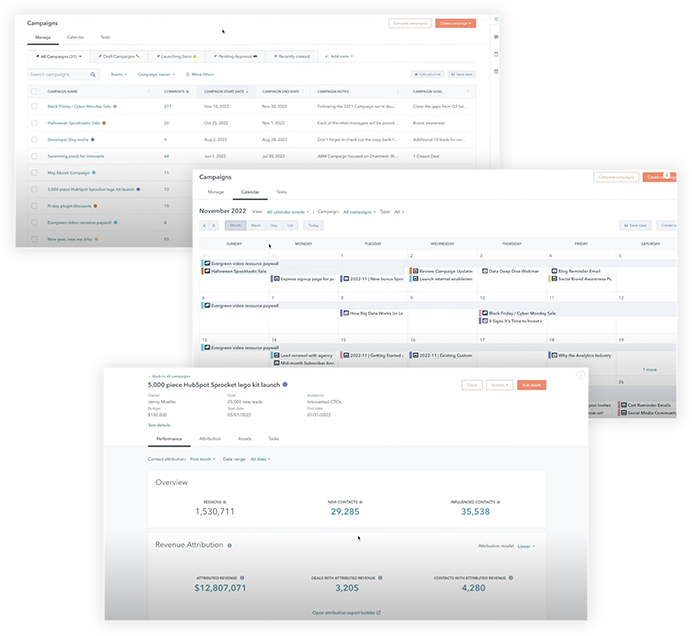 Marketing campaigns are taking on a more centralized role as the "command center," helping you create and coordinate omni-channel experiences for your customers.
Within campaigns, teams can collaborate using one unified calendar and comment threads, with a task list connected to your assets. 
View revenue and deal attribution from within the tool, adding budget numbers for better reporting. 
Anyone on the marketing team can now more easily measure engagement and performance across channels, all the way to purchase.
A beta version of customer journey analytics is out, meaning you can now see every engagement, to help understand what works and what doesn't. This gives you a detailed understanding of your customer journeys, letting you view data on ads, email, page views, media, and more, all in one place.
*Pro Tip: want to opt into beta features? Click your profile picture in the top right of a HubSpot page, then click Product updates. On the left navigation bar, under Early Access, click "Betas" and then the "Join beta" button. You can opt out again at any time.
Better insights and forecasting in Sales Hub
For sales, new updates focus on creating better visibility and access to insights from your pipeline.
Admins have better access to customer insights by selecting up to four properties to display "board cards" of all their pipeline objects — from deals and tickets to custom objects. 
With key information front and center, sales leaders can

manage deals easier

(and close them faster). 
Deal management has also gotten an update, introducing fiscal forecasting, a stronger integration across deals and forecasting, and a new goals tool (with team goals). 
With these new features, you can customize the CRM to show which properties and deals matter most to your business, so high-priority initiatives stay top-of-mind.
A more personal Service Hub
For customer service, HubSpot has rolled out new conveniences for customer connection.
HubSpot is beta testing a WhatsApp integration, so you can use WhatsApp as a messaging channel in a shared inbox, and communicate with prospects and customers through it. All these conversations can be stored in the CRM. (This feature will be particularly impactful in non-US markets where WhatsApp use is more ubiquitous).
They've also

launched inbound calling this year

, so service reps can now place and receive calls right on their personal phones. Phone numbers acquired here allow you to easily record, transcribe, and coach — right from the CRM.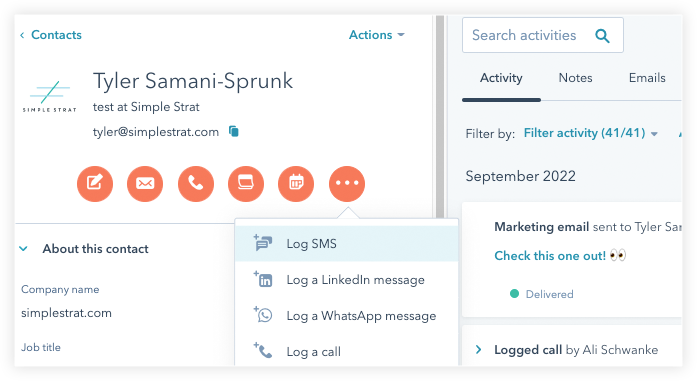 These new features will help service teams create a more personalized experience for customers, engage them at the right time, and automatically keep customer data more organized.
Making life easier for B2B companies
You can now easily create links, forms, quotes, emails with links, and even paid meetings that your customers can click on to pay. 
For US companies, HubSpot's "payments" feature offers a more streamlined buyer experience, and speeds up your quote-to-cash timeline. Whenever a new quote is generated in HubSpot, payments lets buyers accept it and enter their payment information in a single step.
Sprocketing up for a smoother customer experience
If there's one key takeaway from Inbound 2022, it's to make a greater effort to understand what your customer sees and feels from the moment they first land on your website and through their buying journey — all the way up through the sales process, and even their onboarding process. 
The larger a business gets, the easier it is to forget exactly what your customer's buying experience looks like. How many potential customers might you be losing because of oversights in your marketing or sales processes? It's not always easy to tell when you're deep in the weeds of your business.
With all of these updates, it's becoming much easier to use HubSpot to create an enjoyable experience for customers, and to make sure they're delighted with you from start to finish.
Bonus: 
Here's a Simple Strat team photo with some executives at HubSpot, Dharmesh and Yamini – or at least… their heads.